Simon Clowes Transport Ltd was established in 1988 with just one lorry. Since then the Company has gone from strength to strength and we now run a fleet of 4 artic tipper vehicles, 6 artic bulk blower vehicles and 2 rigid blower vehicles. We are also TASCC Registered Hauliers.
All our vehicles are maintained and serviced regularly at our premises in the Staffordshire Moorlands by our dedicated team of mechanics. The vehicles have on board weighers and satellite navigation systems and are fitted with live tracking and communication systems which enables us to provide our customers with up to date information.
Our team of drivers are very experienced within our line of work and several have been with the Company for many years. They are fully compliant with DCPC legislation training and EPIC training.
It is our aim to continue to provide a professional, reliable, friendly and competitive service to every one of our customers, from office base communication to face to face communication with our drivers on site.
Simon Clowes Transport Ltd are TASCC Registered Hauliers in accordance with UKASTA code of practice for road haulage and is also FORS accredited.
---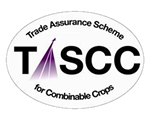 TASCC (Trade Assurance Scheme for Combinable Crops) is the leading trade assurance scheme for combinable crops in the UK. It encompasses the supply chain from farm to primary processor and ensures participants meet the requirements of the food and feed industries.
---
TASCC Registered Hauliers